CTS-Control
with user-friendly C–Touch–Screen
All of our devices and systems, i.e. standard devices as well as customer-specific devices and special systems, are equipped with our user-friendly colored touch panel. This allows you easy handling with complex technical requirements at the same time. The control has fixed keys for elementary device functions, a digital color display of the temperature and humidity values, graphic curves and many other functions.
New Possibilities
Thanks to the four times higher resolution than the former terminal more and detailed information can be shown. The C-Touch-Screen has a screen size from 7" and a resolution of 480 x 800 pixels. With the contemporary operation over the capacitive multi-touch it results in advanced possibilities to get information. For example the menu of analogue channels which can now be combined with the menu of digital channels. The one and two finger gesture implemented in the trend graph shows the potential of the new terminal.
New Functions
The C-Touch-Screen has now a USB-Host connection. Therefore you can connect some storage to the terminal and store your measurements independent from the PC. These measurements can then be visualized over our CID-Software. Also possible is to write a test cycle over CID-Software and import it via USB-storage.
New Ways
The C-Touch-Screen can be equipped optional with an RFID-Reader. After a configuration defining which RFID-tag starts or ends a specific function. These functions can be triggered upon detection. It can be used for example to log the C-Touch-Screen or start a defined test-cycle without touching the screen. So a very easy handling, also within rough surroundings or for few instructed users is possible.
Intuitive multi-touch operation via touch, slide or swipe movements
microprocessor-controlled control and monitoring system
7" colour display
Fixed keys for elementary unit functions such as start/stop, fixed values, program mode, pause, light, etc.
Digital display for temperature and humidity, set value and actual value in colour
Closed, illuminated glass front
Customer-specific favourites bar
Graphic display of curves
up to 100 test programs can be saved in the control unit
32 bit controller
Interfaces: RS 232 (changeable to USB) / RS 485 / RJ 45 (Ethernet) for the computer connection
Fill level indicator for water supply reservoir on display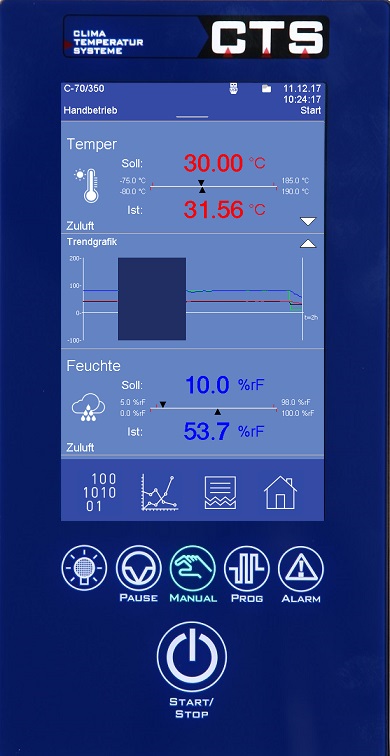 ---
CTS interface protocol
Control ‹› PC
Download PDF Description of the ASCII protocol