VOC emission test chambers EK 1000
Emission test chambers for the targeted determination of emissions
The EK1000 VOC emission test chamber, developed as a joint venture with Olfasense, enables the determination of emissions of volatile organic compounds under precise test conditions. It fully complies with the requirements of ISO 12219-4 and VDA 276.
It also meets all requirements of the manufacturers' standards GS97014-3 (BMW method), PN 780 (Porsche method), VCS 1027, 2769 (Volvo method) and PV 3942 (Volkswagen method).
Further, detailed information about this test chamber is available from our partner Olfasense at VOC emission test chambers EK 1000
Test space volume in litres
1000
Humidity range
from 5% r.h. to 80% r.h.
Temperature range
Ambient temperature plus 5 °C
/
+130 °C
up to +130 °C
for emission tests
up to +210°C for desorption
Standard basic equipment of the emission test chambers
Flushing air function
Compressed-air supply
Humidity and mass flow process control at the chamber inlet
Process-monitoring sensors (temperature and humidity in the chamber)
Heated sampling port, 4 ports
Interfaces: USB, RS232, RS422, RS485 (e.g. for a FID data connection)
Refillable container for laboratory water
Adjustable fan speed
Sampling connections on the right (left possible on request)
Capacitive multi-touch display in the front panel with function keys for the main system functions
Easy-to-maintain capacitive humidity measuring system (for CS)
USB stick connection for data storage
Ethernet interface
2 digital outputs to the customer-provided test specimen controls
CTS emission test chambers – your advantages
Precise compliance with all standard requirements for the component test chamber
Minimized adhesion
Control panel for setting, controlling, monitoring and recording parameters: temperature, humidity, mass flow with export function to USB stick
Easy-care plug-and-play humidification unit
User-friendly door latches
CTS emission test cabinets conform to standards
ISO 12219-4 (method for determining the emissions of volatile organic compounds from vehicle interior parts and materials)
VDA 276 (determining organic emissions from components for car interiors with a 1 m³ test chamber)
GS97014-3 BMW method (determining volatile organic emissions from components, semi-finished products and materials)
PN 780 Porsche method (interior – emission behaviour)
VCS 1027, 2769 Volvo method (determining volatile organic substances from vehicle interior components/systems with a 1 m³ emission chamber)
PV 3942 Volkswagen method (determining organic emissions from automotive interior components; emission testing), optionally
SHED function for tests in line with the GS-97014-2 BMW method (emission measurement in SHED chambers. Determining volatile organic emissions from components, semi-finished products and materials not containing fuel) and CARB regulations
Fogging cooling device in line with VDA 276 and VCS 1027, 2769 (Volvo method)
ISO 16000-9 (determining the emission of volatile organic compounds from construction products and furnishings)
EN 16516 (determining the emission of volatile organic compounds from construction products)
EN 717-1 (determining formaldehyde emission from wood materials)
GEV test method (determining the emission of volatile organic compounds from flooring materials, adhesives and building products)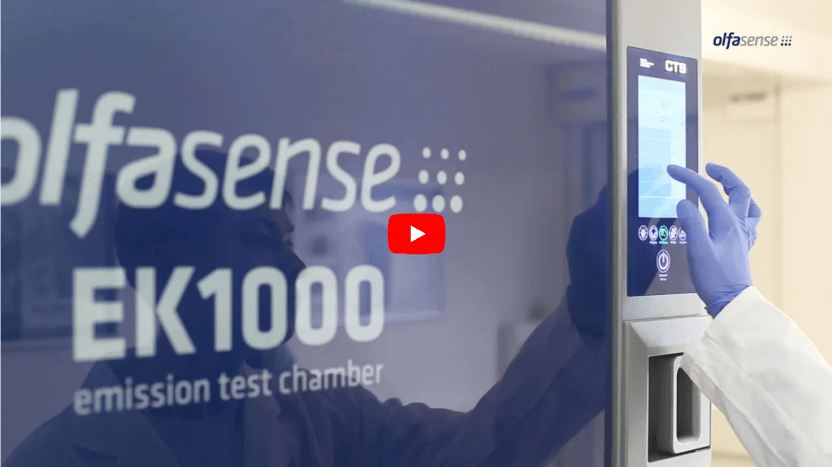 Clicking on the picture redirects you to a YouTube server
Technical specifications