---
Relevant Information of the DAkkS
---
The calibration laboratory is accredited by the Deutsche Akkreditierungsstelle GmbH (DAkkS)

in accordance with DIN EN ISO / IEC 17025 and has the competence to calibrations for measurand temperature, dew point temperature, relative humidity temperature and climatic test cabinets, including on-site calibrations
New national metrological traceability policy:
CTS GmbH recommends DAkkS calibration certificates
---
In line with the demands of the European Cooperation for Accreditation (EA), the German Accreditation Body (DAkkS) has adapted its regulations regarding metrological traceability. Laboratories use traceability to ensure the correctness of the measured results for the user. Now, there are strong restrictions on the use of works calibration certificates and certificates of measurement as proof of traceability.
Further Information
---
Outside the accreditation we also offer factory calibrations (WKD).
Accreditation Documents
---
DAkkS Accreditation
The DAkkS (Deutsche Akkreditierungsstelle GmbH) hereby accredits the calibration laboratory of CTS GmbH in accordance with DIN EN ISO/IEC 17025:2018 for calibration of measurands: temperature measurements, humidity measurements (Registration No.: D-K-18066-01-00)
Accreditation certificate in accordance with DIN EN lSO/lEC 17025:2018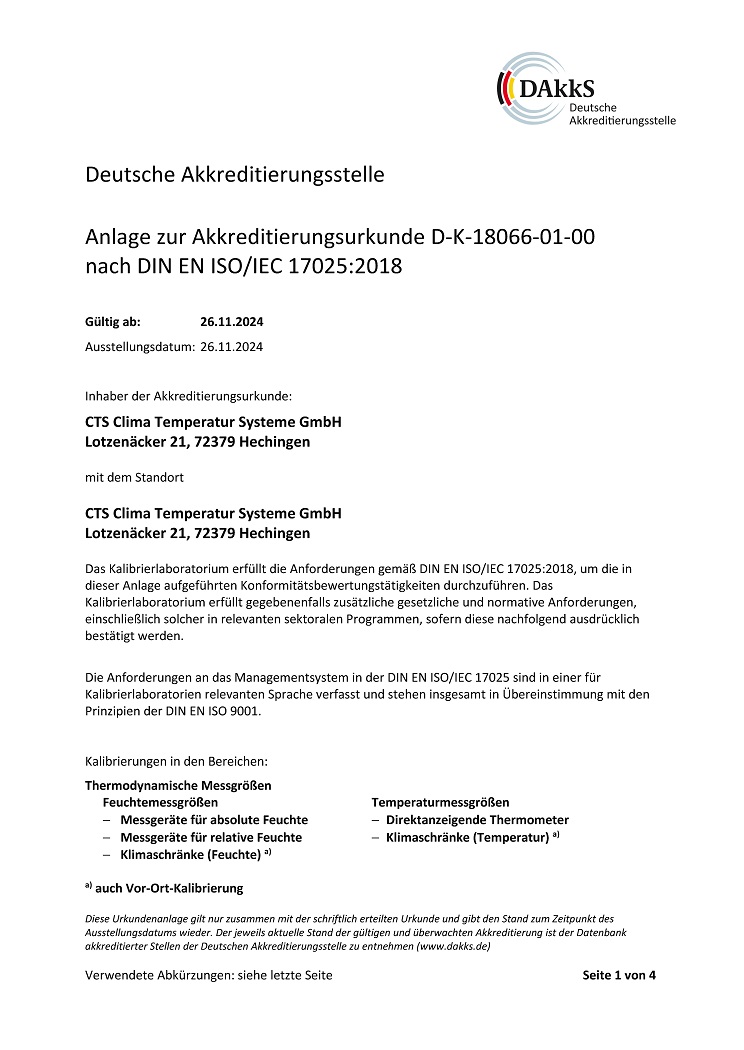 Appendix to the DAkkS Accreditation
We offer DAkkS calibrations. These are only valid in the current scopes listed appendix below the accreditation certificate (D-K-18066-01-00).
Download the current scope of services of the DAkkS laboratory here. (german)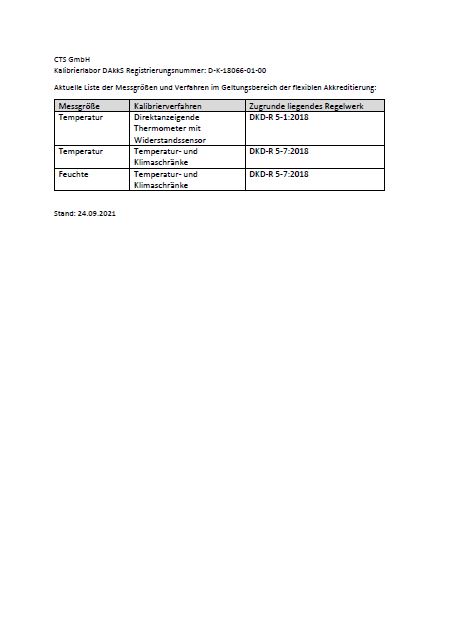 Flexible Accreditation
Our calibration laboratory has a flexible category III accreditation. You can see the list of valid standards in the flexible area here . (german)
Frequently asked questions
---
Please refer to www.dakks.de for more detailed information.
Accreditation of DKD laboratories is based on the rules and procedures of the German Calibration Service (DKD) as defined in DIN EN ISO/IEC 17025. Due to amendments in the standard (version 08/2005), all laboratories will undergo assessment for compliance to the amended version of the standard by 15th May 2007 within the framework of monitoring visits.
Reference:
- DIN Internationales Wörterbuch der Metrologie
- DAkkS-DKD-5